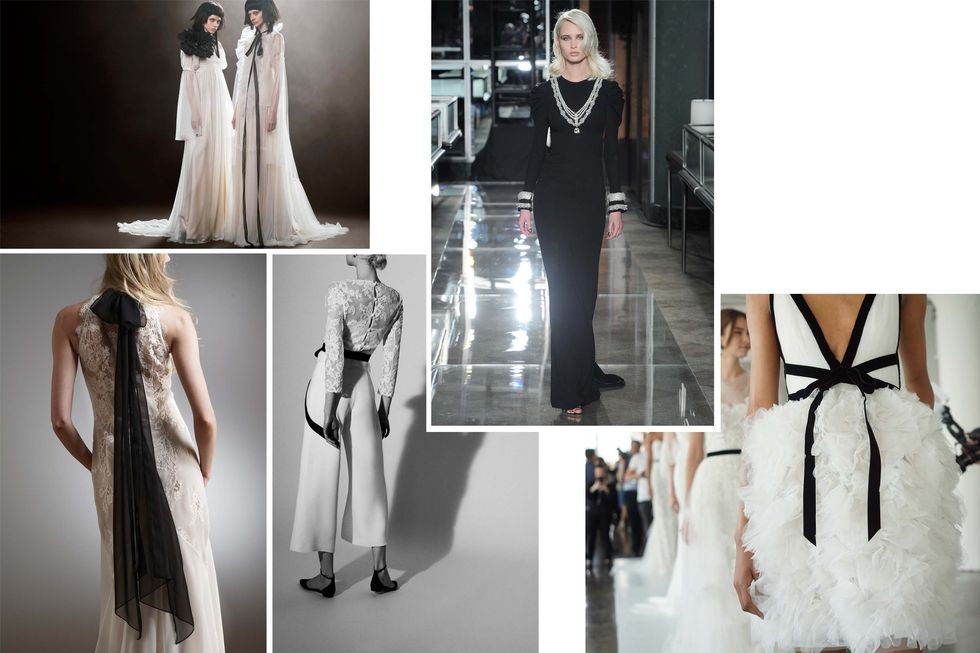 The Bridal Spring 2018 collections wrapped up in New York last week and are making the rounds, with brands showcasing their latest looks for the aisle this week in Barcelona and next in London. While there are still some shows to come, the trends are clear and for the first time in seasons, they're as directional as they are forward-thinking, and push traditional boundaries while still retaining bridal's requisite sophistication and elegance. One thing is clear: designers are after a more confident, powerful and strong women to walk their ideal aisles–one whose more sure of herself and her style decisions than ever before. With that in mind, the trends were strong willed yet chic; some we had a head start on–like head-to-toe and touches of black–while others, like an effortless je ne sais quoi that we're dubbing bridal's take on irreverence, are making us look forward to next year's aisles.
Black Magic
While some, like Reem Acra (inspired by Audrey Hepburn's Holly Golightly), dared to showcase brides in all black, other designers chose the classic hue as well–but in smaller doses. The color choice, too often associated with something funereal rather than timeless, is the chicest in our book. We loved it in every form–from piping on a bodice at Marchesa, to accents at Vera Wang, and in subtle ribbon details at Carolina Herrera.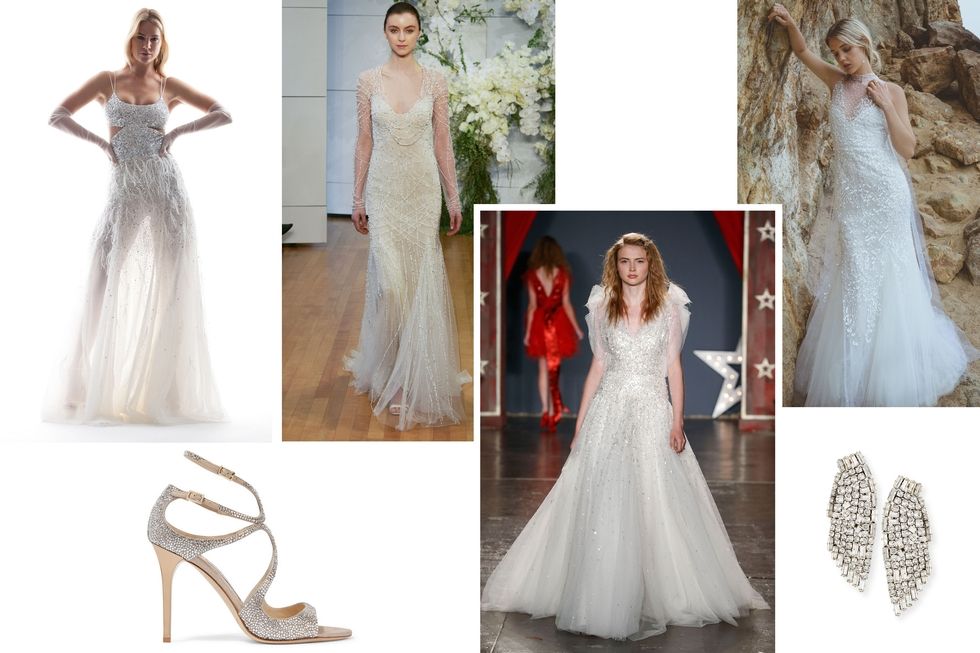 Ice Ice Baby
Beading in bridal is as run of the mill as lace, tulle and frills, but this season's runways showcased looks that felt more snow-capped, cool and iced over in feel. Spring 2018 was all about silver, pearlescent and ivory paillettes subbing in for rock crystals, blingy sparkle and gold gilding.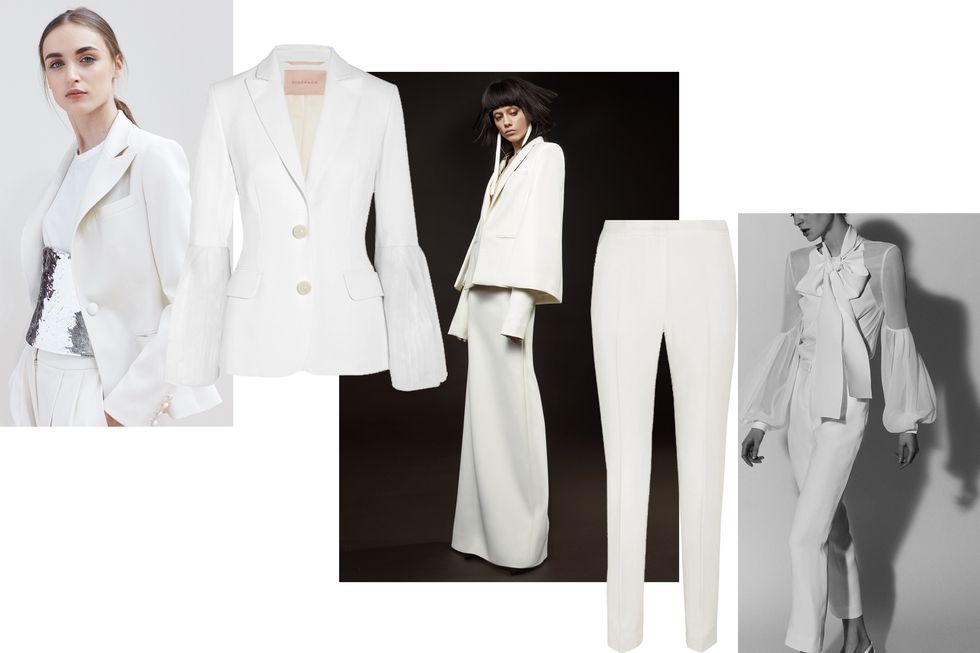 Pantsuit Nation
While Bianca Jagger's bridal Le Smoking look is often credited for the continuation of this super sleek bridal trend, Hillary Clinton and Pantsuit Nation may have had something to do with this latest squad of suiting. Spring 2018 offered up versions of the suit for any style, from the uptown classicist to the downtown it-girl.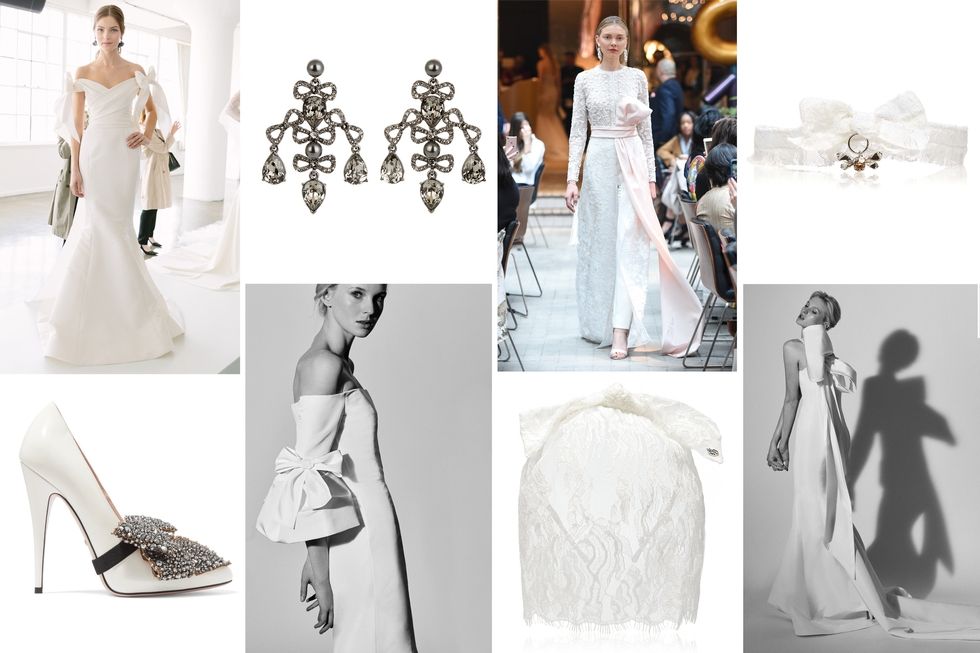 New Bows
Knots, loops and ties have long been associated with wedding gowns–and they started gaining traction on the Fall 2017 bridal runways. Now, bows are taking on new shapes, styles and sizes. From obi sashes and details on sleeves, to oversized versions with a dramatic flair, the fresh takes on this sweet detail feel more sophisticated and structural than super-girly.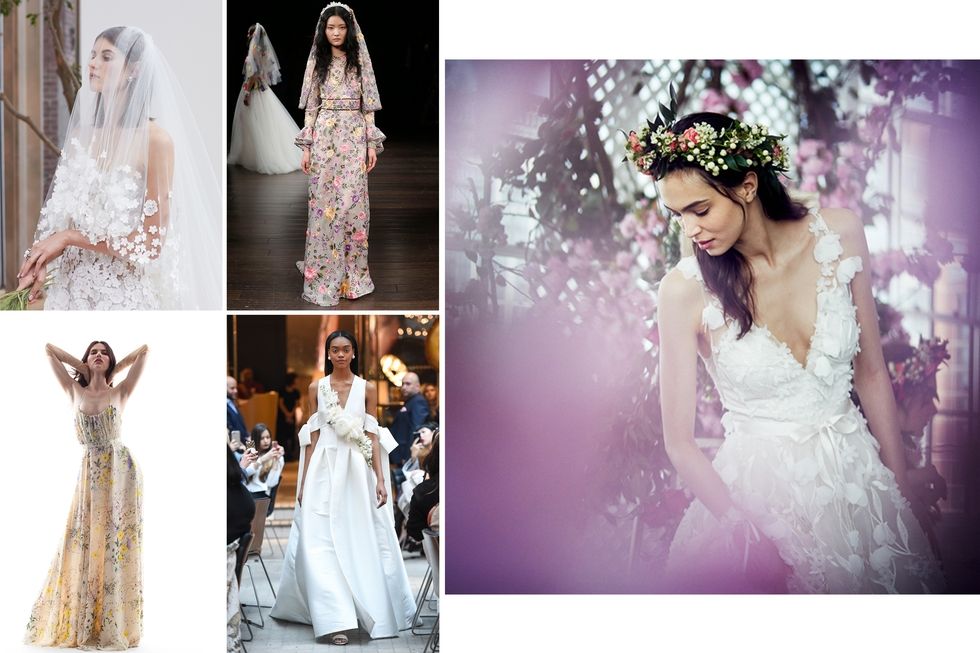 Flower Power
Florals…for Spring? Groundbreaking. Or so we thought–until designers traded in basic lace appliqués and motifs for wildflower prints, blooming accents and bold embroideries that infused more color than we've seen in seasons past.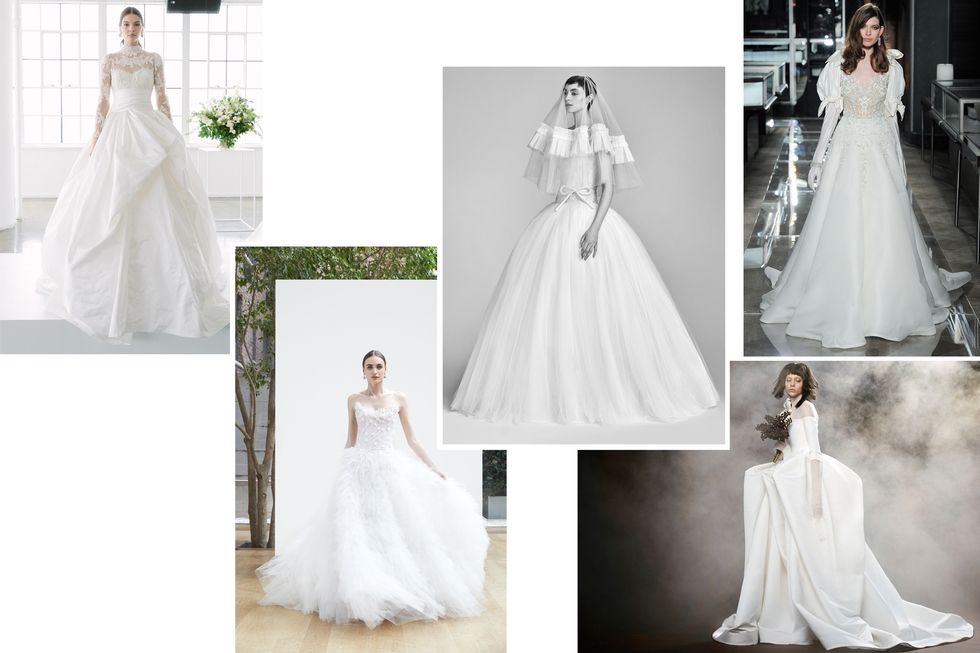 High Drama
The 80's are back per the latest ready-to-wear runways, and bridal saw hints of the over-the-top era in its latest flair for the dramatic. High shoulders and necklines, tons of tulle and skirts that were as big as ball skirts come felt at ease in the mix, rather than overwrought standouts, proving that the latest legion of modern brides are trading in subtlety for singularity.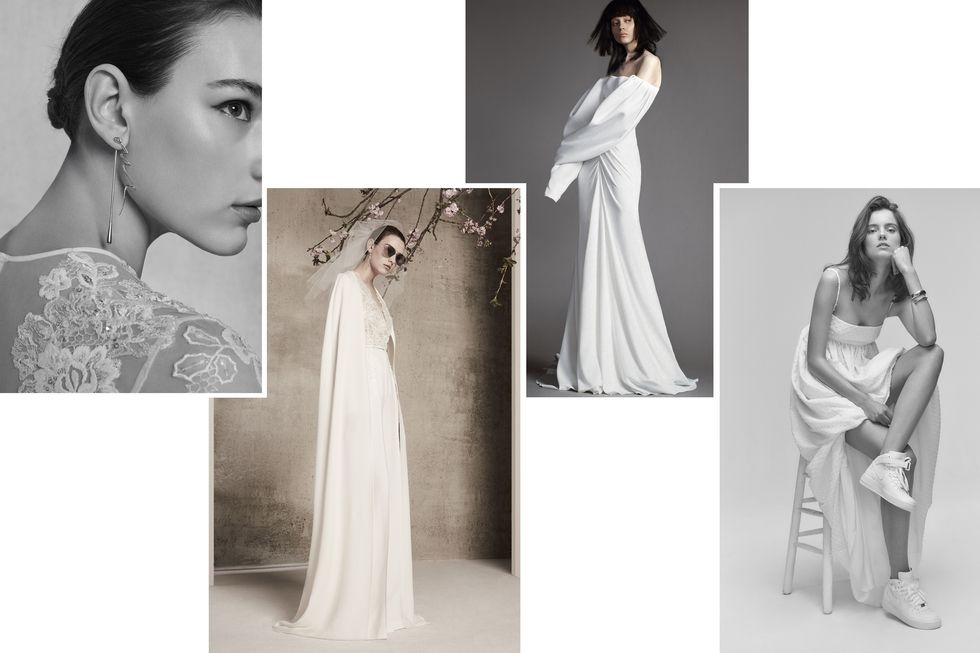 Irreverence
While high grandeur took the place of all-over glitz and sheer silhouettes for brides looking to make a statement, bridal's bohemian side got a facelift as well–in the form of an effortless, lax, laissez-faire attitude that will have brides looking all too cool without even trying rather than festival chic.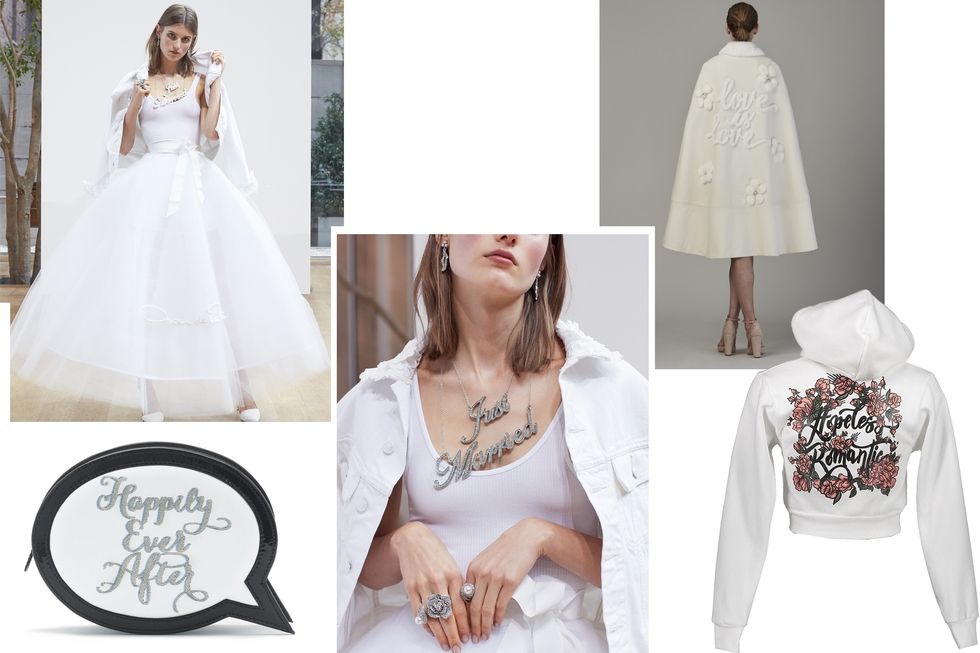 Tongue and Cheek
Ready to wear was ridden with Normcore two seasons back, followed by an influx of cool kid streetwear labels, like Supreme New York, taking center stage in street style. Bridal's taking cues from fashion's it-girls, and isn't taking itself too seriously. This season, Oscar de la Renta showed a white denim "Just Married" bomber and nameplate necklaces, while Lela Rose ended her collection with a "Love is Love" cape. If you're after a more casual piece of bridal merch to sport, Houghton's got you covered, and cheeky accessories labels like Charlotte Olympia and Sophia Webster continue to offer extras emblazoned with romantic, sweet nothings.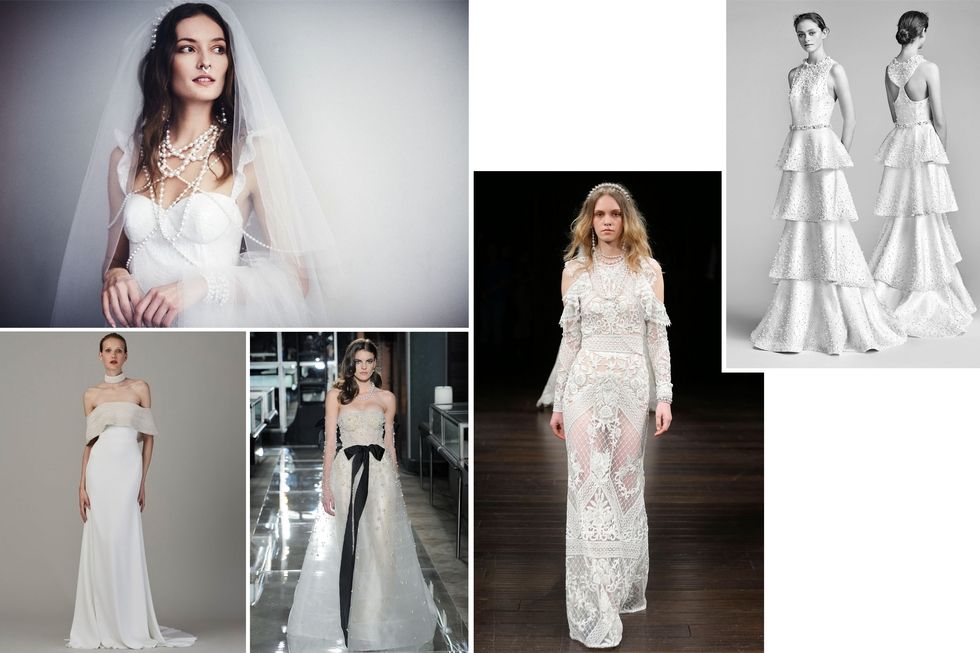 Girl With a Pearl
Bows aren't the only super-girly detail this season's bridal found a fresh take on. Pearls–and not ones that could serve as your something old–were all over the runways, from embroideries to extras.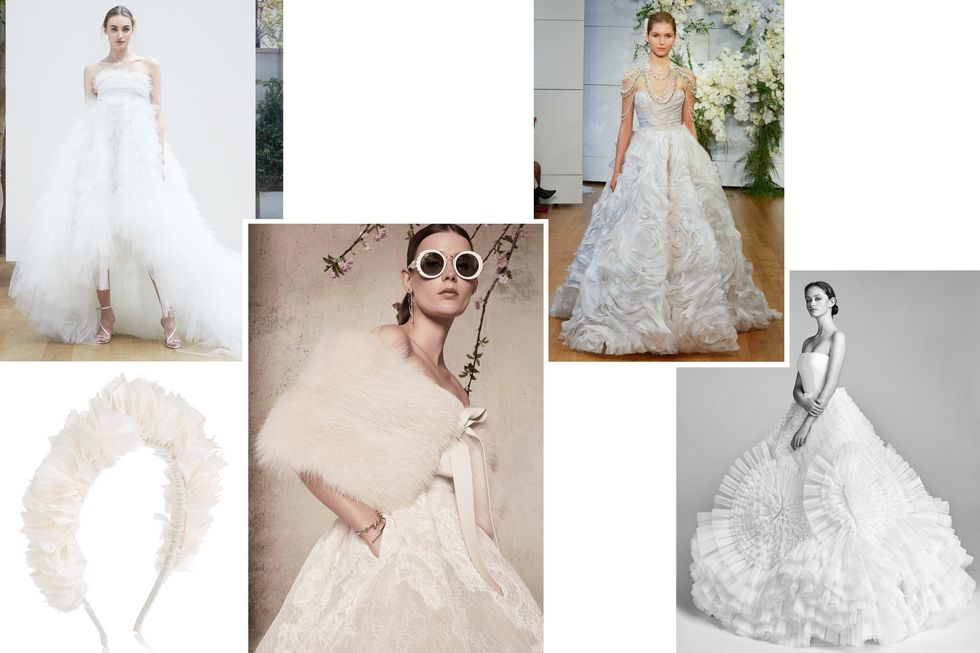 Keep it Plush
Last season was all about frothy tulle, but this one was all-around plush. Pleats, fur, ruffles, flange and silk swirls added texture in new ways, giving fashion-forward brides fresh alternatives to layering and lace.