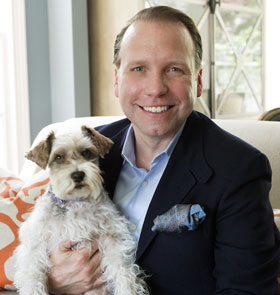 Simply MARvelous casual luxury
Mar Jennings has always drawn inspiration from his home, garden and life's surroundings. When a young boy buys gardening tools with his allowance, it's not a stretch to imagine him becoming one of America's top lifestyle experts. Now when that young boy also happens to be a former gold medal-winning figure skater, the sky's the limit as to the heights he can achieve. This modern lifestyle expert, television personality and author is known for his signature style: casual luxury. He has garnered praise and recognition as a definitive source on home, gardening and lifestyle, and as a resourceful and creative entrepreneur. His simple yet clever tips and complete projects inspire you to make life and family easy and fun—from gardening to decorating, from entertaining to fashion. His dynamic website www.marjennings.com captures his essence and has become a home resource for all who are looking to improve their everyday life.
Easy Spring Centerpieces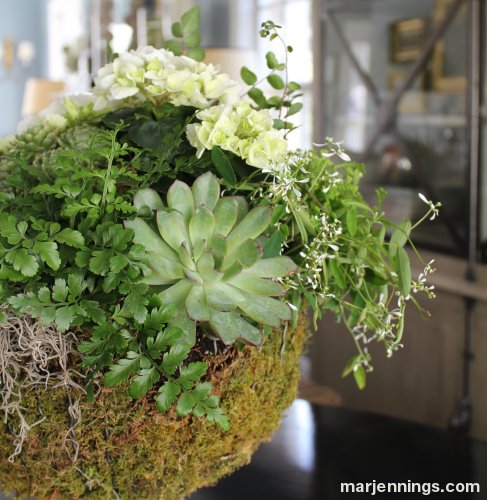 As a designer (and gardener!) I always find myself thinking outside the box, and looking for inspiration and unexpected resources everywhere I go. With spring around the corner and Mother's Day not far away, I wondered: "Why show up with cut flowers?" Especially, when your local grocery store or gardens supply can offer many wonderful gardening resources. You can create a breathtaking arrangement that is both easy and fun to make. Plus, unlike traditional flowers, they also make a wonderfully long-lasting gift. You might even find you save money in the process.
You'll need only 3 types of vegetation: Forced flowers (be inspired by what's available: hydrangeas grape hyacinths, roses, etc.,) small plants (such as lush ferns or ivy,) and packaged moss. That's it.
Here's how to create your own arrangement
Find an interesting vessel to use as your container. Fill with potting soil mid way then begin to insert plants from the center out. Allow each to overlap for a lush, dense look. Add moss to cover any visible soil.Water weekly.
Enjoy it longer:
Three to four weeks after Mother's Day, your arrangement will be looking a bit outgrown, so simply transplant the whole thing into the garden . You do this by simply inverting your container, popping out the contents, and inserting them right into the ground. How easy is that?
A Wine Bouquet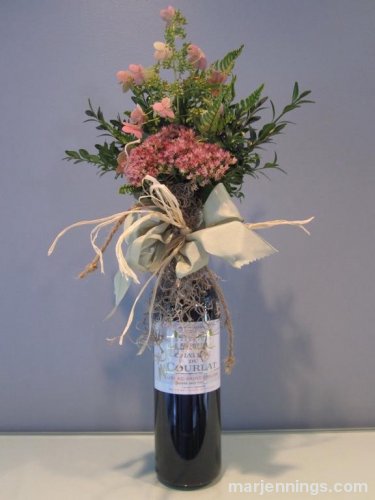 A nice bottle of wine is always a perfect gift for a host or hostess. We have all seen the velvet wine bags sold in stores these days – they're nice, but they lack individuality. Even worse are the plastic or foil bags that your liquor store will offer. Don't do it!  A few years ago, I created a wine bouquet that can be wrapped around any bottle of wine, which I use when bringing wine as a gift. It takes a little time, but people do stop and notice this charming way of presenting a bottle of wine, and your host or hostess will feel especially appreciated.
What you need for this project:
A bottle of wine • Raffia• Garden twine • Moss (regular or Spanish moss, available at any garden center or craft shop) • Evergreen clippings – from your yard or garden center • Decorative ribbon 1 ½ inches wide.
Steps to a wine bottle bouquet:
The secret to making a killer wine bouquet is to add the different elements one at a time. This allows you to "build" the bouquet off the wine bottle easily, and makes sure that it is secure.
Take the bottle and place it on its side, label facing up. A sMARt tip: to keep the bottle from rolling, place it between two large books.
Take the garden twine and tie a knot tightly at the top of the neck of the bottle, just under the rim, with the knot in the front. The front is the side with the label. We will build the bouquet from here.
Gather together a small bouquet of evergreen clippings in a variety of textures and colors. Place the bouquet on top of the neck of the bottle. The stems of the bouquet should be on top of the knot and extend down the neck of the bottle about three inches. We will trim them later. Attach the bouquet by tying the garden twine over the tops of the stems with a knot to secure the bouquet to the bottle.
Once you have secured the bouquet, crisscross the two ends of the twine around the back of the bottle neck and then back around to the front again. (Think of a ballerina lacing her shoes up her leg.) When at the front of the bottle again—you should be at the base of the neck—tie another knot in the front to secure the ends of the stems. Now trim the stems that fall below this knot.
Place a bit of decorative moss, a little smaller than the size of your palm—over this knot, and tie the twine around it to secure it. I prefer to use Spanish moss as it has a whimsical, organic look.
You can now add seasonal greenery, such as holly, small flowers, a pinecone, or brightly colored autumn leaves. A small bouquet such as this is often referred as a nosegay. This is a great opportunity to recycle the flowers from a wilting bouquet that still have some spunk left in them as the wine bouquet is designed to last for a day or so, depending upon your choice of flowers. Simply lay them on the moss and tie another knot with the garden twine. Tie a small knot at the end of the twine and trim off the excess.
Now for the ribbon. Cut a piece of decorative 1 ½ inch ribbon about 16 to 20 inches long. This will serve to hide the stems and secure the whole bouquet to the bottle. Wrap it over the seasonal greenery and tie a bow about 4-5 inches wide leaving 3 to 4 inches for the ends. Trim the ends. I prefer pinking shears.
And for that final touch, I love to add a raffia bow tied in the center of the ribbon knot. Leave a bit of excess hanging down. A sMARt tip: if the raffia ends touch the top of the wine label it will be in proportion.
Practice makes perfect, so have fun with the learning curve and enjoy the process. Once you start you can never go back to giving a bottle of wine any other way.
LIFE ON MAR'S: The Home Makeover Show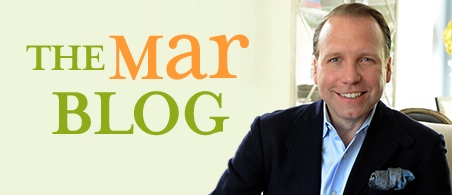 What a beautiful day that portends of so many wonderful possibilities, so much potential. I love the morning. It is a quiet time, before all of the day's activities begin, and I am off running. The birds are cheerfully chirping away in my garden, which is full of blossoming flowers. This is a delightful way to celebrate Mother Nature's peaceful beauty. Who needs antidepressants when there are moments like these? You just have to seize them! Go on. You deserve a little "you" time.
How to you relax in the garden full of Mother Nature and all her glorious charms? I love my simple lawn chair placed strategically for quiet, views and privacy. It is the perfect place to perch and ponder.