No more bouncing around from place to place. The two of you have finally found a place to plant some roots! Sure, you've got the deed that says the place is yours, but those bare walls say nothing about who the two of you are together.
If you're feeling overwhelmed by your new square footage, don't worry. These five decorating tips will guide you through the process of turning your very first house into your very first home!
Removing the words yours and mine from your vocabulary can be challenging, but when it comes to your home, always remember you'll share the space together. That means you'll face the task of merging design styles, preferences and ideas but you won't always see eye-to-eye. Even if one of you is less than design savvy, you'll each be happier with your home if you work together as a team.
Combine personal styles when possible and create individual zones when not. For example, dedicate a man cave for sports memorabilia or a craft room for feminine colors — that way, you'll each have a space truly dedicated to the things you love without stepping on each other's toes.
So now you've got some room to spread out, but stretching your small collection of decor only goes so far. Chances are, the process of buying a home has left you short on cash, which means it's the perfect time for a garage sale shopping spree!
Just because something is second hand, doesn't mean it's second best. In fact, you'll likely find one-of-a-kind pieces from Craigslist, Ebay, thrift stores and yard sales that fit within your budget and can easily be refinished to fit your personal tastes.
As the budget allows, begin the process of upgrading your furniture to the pieces you've been eyeing. Because furniture is a large investment, look for timeless pieces that you both will enjoy for a very long time. The Besta media center from Ikea is a great example! Priced at around $580, this versatile piece will add style to your space that can easily be updated over time by changing out accessories.
Style File – Ombre your Home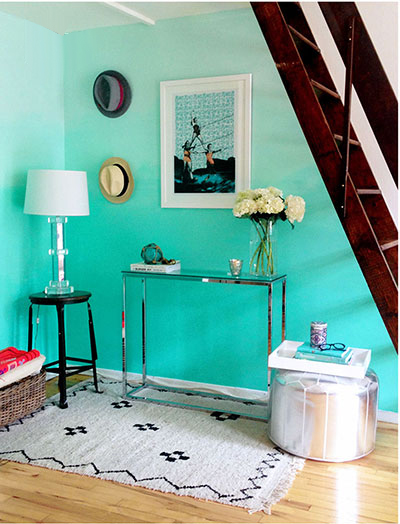 Looking to add a pop of color to your home decor but can't decide on just one? The ever popular ombre trend could be for you.
Two trends in one: mint and ombre! Paint the wall with a base of your lightest shade. Then use painter's tape to divide the wall into equal sections for as many colors as you want to use. Paint each section the appropriate color and then blend. Erica's bright, sea-inspired wall is a must-have for anyone who wants to brighten up a room or create a focal wall.
THE SINGLE-COLOR OMBRE WALL
Choose a dark paint color with plenty shade to fade.
Paint the bottom half of your wall with a thick band of paint.
While the wall is still wet, use a spray bottle of water to thin the top quarter of paint.
Use a large natural sea sponge to spread and pat the paint up the wall.
Gather more paint as needed from the middle and bottom parts of the wall, using your sponge to blend the color as you go.