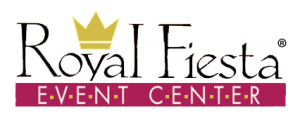 South Florida reception center, Royal Fiesta specializes in Wedding Receptions, Ceremonies, Bar/Bat Mitzvahs, Anniversaries, Sweet Sixteens, Quinceaneras and Corporate Events. Our elegant venue can accommodate your special event from 30 – 300 guests. Affordable packages make Royal Fiesta ideally suited for Rehearsals, Birthdays, Reunions as well as Meetings and Holiday parties. Royal Fiesta Caterers and Event Center is the premier caterer in South Florida for your wedding reception. One of the only banquet halls in Broward County offering full service reception packages, event planning in South Florida has never been easier!
Contact Information
1680 Southeast 3rd Court
Deerfield Beach, FL 33441
Call us: (954) 570-9422
Email us: info@royal-fiesta.com
VENDOR REVIEWS – Trustworthy reviews are our priority.
Royal Fiesta
Average rating:
4 reviews
Jul 2, 2017
Anazing Venue
Wedding Date:
Recently Married
Royal Fiesta is an amazing venue! Tami and Robert who run the facility are simply awesome! Royal Fiesta is a beautiful "one-stop-shop". The venue is very affordable, the food is great, the decor is gorgeous with a beautiful view of the water and they are very flexible. I searched for the perfect location (on a budget!) and I'm so happy I found this place. Our guests were amazed at how nice the wedding reception turned out. It looked like we had spent much more than we did. There are many options to choose from and the cake and centerpieces are including in your pricing. Thank you for a wonderful unforgettable wedding experience! I would highly recommend this venue to anyone.
Jul 2, 2017
OMG
Wedding Date:
Recently married
Omg Robert and Tammy is Awesome,very flexible and bent over backwards to meet the needs of their client.Venue is gorgeous.My wedding is April 10 2016 after the wedding I'll surely give another review if possible.
Jul 2, 2017
Highly Recommend
Wedding Date:
Recently Married
I felt at home as soon as I started talking to Tammy. She made me feel so comfortable and that my wedding day would be in great hands. My fiance immediately said this is the place! She immediately scheduled a tasting for us and the food options were all delicious. I am so happy that we can have the wedding of our dreams on our budget. Other vendor options felt like we had to make too many sacrifices in order to afford it. We even contemplated just going to justice of the peace and just save our money. Our wedding is in October 2016 but we started planning early. Anytime I call with a question they make me feel like you are their number one priority!
Jul 2, 2017
Great Wedding Day
Tami was by far the best vendor I used. Her responsiveness and kindness exceeded my expectations. She made sure all my needs were met! She was helpful and always had a smile on her face. She is very easy to talk to and very understanding when it comes to your needs. The team was amazing they served me food and made sure I wouldnt have to get up so that i dont ruin my dress.