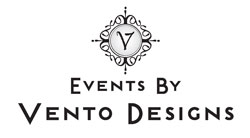 Ana Vento, President and Executive Producer of Events by Vento Designs launched her Fort Lauderdale-based company over five years ago and services clients in Fort Lauderdale, Miami and Palm Beach County. Born in Cuba, her multicultural background has been a plus in her career when working with Spanish speaking clients.
Ana's extraordinary relentless drive, attention to detail and ability to think out of the box, has earned her the respect from her clients. She takes pride in providing luxurious event planning for all price ranges and within budget and aims to ensure each event is flawless. You will be able to enjoy a stress-free event with onfidence that Ana and her team will orchestrate the entire production from the beginning to the last logistical detail.
Contact Information
Phone: 954.675.6600
Contact Ana Vento
Visit our Site
VENDOR REVIEWS – Trustworthy reviews are our priority.
Events by Vento Designs
Average rating:
16 reviews
Dec 4, 2019
Great team
Wedding Date:
August 3rd,2019
Let me start off by saying this team of women is absolutely phenomenal! At first we weren't too keen on having a planner for our wedding as we didn't think we would have found someone who would properly execute our ideas but we've found all of that and more to say the least. Ana and her team have done an amazing job so willingly skillfully and gracefully. We loved working with these women. My husband and I were very pleased with their professionalism and the overall outcome of our event. Guys thank you so much for your efforts and words of comfort throughout our journey. We definitely recommend your services!
Dec 4, 2019
HIRE A WEDDING PLANNER
HIRE A WEDDING PLANNER!
HIRE ANA VENTO and her team!
I can't say enough about Ana and her team at Events by Vento Designs. I don't think I would've been able to pulled off my daughters amazing wedding without them. Ana helped guide me in the right direction and captured my daughters dream wedding. Some might say "I can't afford a wedding planner"... Let me tell you, she goes above and beyond and makes sure you get the BEST DEAL possible, we actually saved money having her on our team.
Dec 4, 2019
The Best Wedding Planner!
Could not have asked for a better wedding planner. Ana and her team made my wedding dreams come true!
May 13, 2019
BEST planners in South Florida
Ana and Fernanda made our wedding day vision come to life! Greg and I worked with the Events by Vento Designs for a little over a year to plan our dream celebration. After meeting with at least 15 potential planners we decided we could trust Ana and Fernanda to plan our magical day. My groom and I provided them a few adjectives to describe what we wanted in a wedding... and the dream team used their creativity and attention to detail to make it into a reality! Their team made wedding planning enjoyable, stress free and fun. We've attended many weddings and there is always at least 1 thing that goes off track, however Greg and I can honestly say NOTHING went wrong and EVERYTHING was perfect on our day. We highly recommend working with Events by Vento Designs for your wedding day or any celebration! They make dreams come true!!
May 13, 2019
Wish I hired them sooner!
Wedding Date:
March 30, 2019
We hired Ana and her wonderful team as a day of planner once all of the details had been determined. That said, I wish I brought them on earlier because they are so professional, creative, have so many contacts in the industry, and on top of their game! They know how to communicate with all vendors and venues to get the best out of each. I depended on Ana and her team to set the tone of my vision so we could enjoy our special day. She and her team outdid themselves. Thank you for taking my stress away!
Jan 28, 2019
Amazing experience!
Ana and her team at Events by Vento Designs were amazing right from the start. Ana is extremely professional and her work is impeccable . Our wedding was supposed to be in May of 2018, Ana helped us plan it. 2 months after we began working together my husband and I found out we were pregnant. Ana and Fernanda were so excited and helped us moved the ENTIRE wedding to January 19, 2019, a few months after the baby was born. They worked with the vendors we already had and recommended amazing vendors for the things we still needed. She negotiated on our behalf and was extremely hands on. Ana is very well known in the industry and CAN DO ANYTHING!! What is important too is that she stuck to our budget without sacrificing what we wanted.
Our wedding day was perfect. Everything was handled professionally and I was not stressed about anything, which I hear is rare for a bride! Ana and Fernanda made sure we were happy and would do anything for us. They really became our friends through the process.
We joke that we would have paid way more for everything they did for us! Even our guests were impressed about how hard they worked all night! They didn't leave until the night was over.
I will advocate for Ana and her team over and over again, I can't imagine my wedding day without them. If you want an impeccable, easy, stress free, amazingly beautiful wedding make sure you use Events By Vento Designs!
Nov 29, 2018
Perfection
Words cannot express my gratitude for Ana Vento and her team at Events by Vento Designs. Being that I reside in Seattle it was pretty challenging to coordinate and plan my special day. With Ana's professional expertise it made my planning process a smooth one and total stress free. With her top rated connections it made me feel comfortable. I trusted her choosing reliable and talented vendors. She always had everything under control. She understood the look I was imaging and brought them to life with her designers eye. Everything was above and beyond my fussy expectations. The day of the wedding ran so smoothly without any stress or hiccups. I received many compliments from guests to how beautiful everything was. My wedding was something extraordinary!! "Thank You" to Ana Vento and her staff for creating the perfect day!
Nov 17, 2018
Tobin/Furman
One word to describe Events by Vento Designs AMAZING❤️
Ana and her staff are professional , excellent Party Planner's , over and beyond the value. For a "perfect" wedding from beginning to end hire Events by Bento Designs. ? Love you girls
Oct 31, 2018
Reeves Sandora wedding
Events By Vento Designs is nothing less than amazing and flawless! Ana, and her entire team are completely dedicated to their clients 100%. I hired them as a day of planner for my wedding and I feel like they gave me so much more than just what a "Day of planner" should give. From the first time I walked into their beautiful downtown Ft. Lauderdale office and was greeted with such warmth I knew I was going to hire them. Ana spent the whole day with me on my wedding day just making sure I was happy and had no worries in the world. During the reception when we were having fun and dancing I would get sweaty and Ana and her wonderful assistant took me into the bathroom to refresh my hair and make up (they did that several times throughout the day). It was the little things they did behind the scenes that made the PERFECT DAY for me and my family. They treated me like family and I would recommend them to anyone who wants a perfect wedding, or any event for that matter. I can go on and on for hours about how happy I am and what great work they do! Ana and her team does it all!
Oct 31, 2018
Ana and her team were AMAZING! They made sure that everything was perfect for my groom and I on our special day, leaving us to be free of the stress, to enjoy and soak in each moment of it. If you do not hire Events of Vento Designs to plan your wedding, you are doing it wrong. I can't even image my wedding day without them.