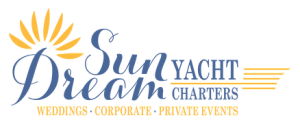 Our company has been exceeding clients' expectations for over 30 years, delivering unforgettable occasions in extraordinary settings on South Florida's waterways. Thanks to an excellent reputation, our fleet has grown to include a selection of elegant and versatile yachts ranging in size from 130 to 137 feet–each ready to fulfill your every need. Whether you are planning a wedding, corporate party, birthday celebration or some other type of special event, Sun Dream Yacht Charters can make your event dream a reality.
As a family owned and operated company, we genuinely care about each and every charter. Pride and personal attention to detail ensure smooth sailing as each of our yachts head out into the calm waters of Fort Lauderdale's scenic waterway.
Contact Information
Address:
2950 northeast 32nd avenue
Fort Lauderdale l FL. 
Phone: 954.765.1460
VENDOR REVIEWS
Sundream Yacht Charters
Average rating:
1 reviews
Jul 12, 2017
Perfection
We can't possibly begin to describe how PERFECT this venue was for our wedding!!! We are from Pittsburgh and got married on the Sun Dream on June 9th. Everything was absolutely amazing!!! Our guests can't say enough great things about the food, staff, and overall environment!!! Everyone was so easy to work with and very accommodating. From the start of the wedding planning to the actual day they were all there to make the day exceed our expectations. The food was delicious and the cake looked and tasted exactly as we had hoped. The flowers, floral arrangements, and centerpieces were gorgeous! We are so thankful for the amazing staff