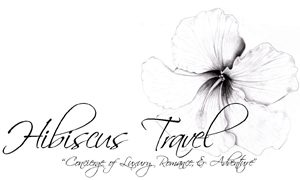 Hibiscus Travel is your "Concierge of Luxury, Romance, & Adventure." As we celebrate 15 years as a woman-owned boutique travel agency, we continue to dedicate our time and love of travel to our discerning and enthusiastic clientele.
Our honeymoon and destination wedding division focuses on fulfilling YOUR dreams, desires, and expectations for your 'once in a lifetime' experience! Whether you are thinking of a large destination wedding or an intimate wedding and honeymoon for two, we get to know you before we make recommendations for the destination which will be your "perfect" match!
We take pride in providing you with a luxurious way to escape the stress of your wedding planning, as well as your daily life. By taking away the uncertainties of traveling, the only surprises you will have are of the pleasant kind!
Contact Information
Honeymoons, Destination
Weddings, Family Vacations
and Romantic Getaways
Call Us Now (866) 748-8766
email us at terese@hibiscustravel.net
VENDOR REVIEWS – Trustworthy reviews are our priority.
Hibiscus Travel
Average rating:
3 reviews
Jul 5, 2017
Luxury!
Wedding Date:
REcently Married
Me and my now husband knew we wanted to experience the luxury of an all inclusive Sandals resort for our honeymoon, however we had no idea which one was best for us since there are so many to choose from. Tereses' expertise and knowledge of all the Sandals properties helped us choose which one was best for us! She even created a HoneyFund for us that let our wedding guests put money and services towards our stay! Throughout working with Terese she has been so caring and super responsive! She was always available when I needed her even on weekends! I can't wait to book our next vacation with her 🙂
Jul 5, 2017
Amazing!
Wedding Date:
Recently Married
Terese was absolutely amazing in making our dream honeymoon to Bora Bora a reality! From start to finish, her service was professional and quick! We spoke initially so she could get an understanding of what my husband and I were looking for and the things we didn't want on our trip. From there, she came back with not one, but a few hotel options to choose from and broke down the pros/cons of each based on our original chat. The Bora Bora Pearl Beach Resort was just as authentic as she said it would be! I would definitely recommend Terese and Hibiscus to any friend or family looking to book their trip... especially for overseas trips. Terese provided all the information you wouldn't even think to ask, entry requirements, etc.
Jul 5, 2017
Awesome Vacation
Wedding Date:
Recently Married
Thank you so much for making all the arrangements for our awesome vacation (B-day celebration) to Jamaica. With your options of resorts in our budget I am very pleased with our pick of Riu Palace. All your planning and reservations made this a most relaxing and enjoyable trip from packing to leave and getting home at the end. Thank you again and we look forward to out next. With only seeing a little of what the island has to offer - we now can understand the Love for Jamaica. Thank you again, Dawn & Mike.