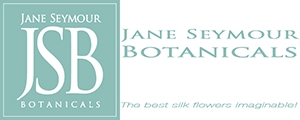 Finally! Flower lovers looking for the beauty of fresh flowers in a format that won't wilt and home decor enthusiasts looking for just the right type of floral accent to add to their home or give as a gift have a new home on the internet- Jane Seymour Botanicals! Jane Seymour agreed with us that our artificial floral designs can't really be called silk flowers. The term "silk" doesn't work because they're not actually silk; so a new name was needed: "permanent botanicals." We chose the term "permanent" since our flower designs are permanent and long-lasting unlike fresh flower. Additionally, the artificial flower arrangements are so realistic that it's very hard to distinguish them from fresh arrangements; therefore, the term "botanical" seemed like the obvious choice. So "permanent botanicals" just made the most sense to us. Take a look at the images on our site, or better yet, order any of our floral designs, get it home to your house, and we're sure you'll agree with their quality and beauty.
Contact Information
Phone: Toll Free: 877-398-0888
VENDOR REVIEWS – Trustworthy reviews are our priority.
Jane Seymour Botanicals
Average rating:
0 reviews