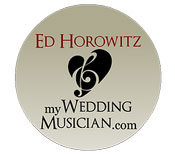 Wedding Ceremonies
Using the diverse and romantic sounds of the violin, guitar, mandolin and ukulele, coupled with highly personalized, professional service – allow me to provide the 'perfect'  musical setting for your special day!
Congratulations on your engagement, and I look forward to hearing from you – and working with you  – to ensure that your wedding is as wonderful as it deserves to be!
Contact Information
Address:
8901 NW 79th St.
Tamarac, Fl. 33321
Phone: 954-600-3339
Email: Ed@MyWeddingMusician.com
Visit our site
VENDOR REVIEWS – Trustworthy reviews are our priority.
My Wedding Musician
Average rating:
7 reviews
Jul 3, 2017
Magical
Ed did a great job. We used him for our wedding recently in Fort Lauderdale. I contacted him literally about one month before my event and he was able to make his schedule work to accommodate our day. He did a beautiful job with the wedding music, the "grand entrance" and the few 'first dances' into the reception. He was extremely organized and efficient. He had all of the music down just the way he wanted it and did an awesome job with set up and tear down. He was there in a timely fashion and did a great job entertaining the guests beforehand. He truly was a gem. I highly recommend him for any of your wedding music needs.
Jul 3, 2017
So Happy
We were married on April 14. 2017 in Fort Lauderdale. Ed was absolutely wonderful to work with and we are so happy that we booked him to play at our wedding ceremony. He listened to our ideas and also gave us plenty of suggestions that made the process so easy. He is very talented and he will customize any song so it is just perfect for your special day. In addition to the music, Ed helped us coordinate our entire ceremony from start to finish! I would highly recommend Ed Horowitz for your wedding musician.
Jul 3, 2017
Ed is the best!
Ed was just the best. We organized our wedding in short time and we needed some help with the music selections. Ed came up with great ideas that suited our ceremony perfectly. The final result was a charming, musical, happy ceremony on the beach- exactly how we had envisioned. Thanks Ed!
Jul 3, 2017
Talent
Ed is so talented and professional. He played at my wedding ceremony, and my guests could not raving about it. If your thinking about hiring a wedding musician, than Ed is your guy!
Jul 3, 2017
Beyond Words
Ed's musical capabilities are beyond words - violin, guitar, mandolin, ukulele. His playlist is outstanding and covers a lot of genres and musical taste. He is incredibly organized, calm and detailed. But most importantly, Ed made sure that the songs we chose for each aspect of the ceremony were personal and meaningful to us. Ed's music for our ceremony spanned Disney, Led Zeppelin, the Beatles, Rascal Flatts and Christina Perri. I would HIGHLY recommend Ed to play at your wedding for a very special ceremony and cocktail hour.
Jul 3, 2017
Truly Wonderful
Ed was truly wonderful and helped make our wedding day magical! So kind, easy to work with, and knowledgeable! We even got a private serenade by the water after the ceremony afterwards! So much fun! I would recommend Ed to anyone! He is top notch!
Jul 3, 2017
Amazing
My wedding was yesterday 6/17/17. Ed did an amazing job. All of my guests were talking about how great the music was before and during the ceremony. He was very professional and courteous. I would highly recommend using him for weddings or any event you may have.