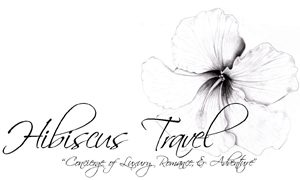 Hibiscus Travel is your "Concierge of Luxury, Romance, and Adventure"  As we celebrate 10 years of offering travel consulting services, we continue to dedicate our time and love of travel to our enthusiastic clients.
Our honeymoon division focuses on fulfilling YOUR dreams and expectations for your 'once in a lifetime' experience!  As a soon-to-be-married couple, you are excited about every facet of your wedding – we are here to make sure that you don't forget about the excitement and anticipation of your honeymoon!
There are many desirable resorts and cruises which offer wonderful options for couples in love.  This is why we have consultants who specialize in many areas – the Caribbean, the South Pacific, Mexico, and cruises.  And, the best news for you is that Hibiscus Travel does not charge fees!  We get to know you, recommend specific options, and design a honeymoon which you will remember forever!  Be sure to connect with Hibiscus Travel – "Turning Dreams Into Memories"
Contact Information
Honeymoons, Destination
Weddings, Family Vacations
and Romantic Getaways
Call Us Now (866) 748-8766
email us at terese@hibiscustravel.net
VENDOR REVIEWS
Our honeymoon in Belize was the most perfect vacation of our lives! We wanted a mix of adventure and relaxation and Hibiscus Travel provided us with that. We spent 5 days in the jungle where we we stayed at the most beautiful boutique hotel. Everything was extremely private and luxurious. We experienced mayan ruins, horseback rides, and private dinners. The next 5 days we
relaxed on the beach at a beautiful Coppola Resort. In between massages and lounging on the beach, we ate incredible Belizean cuisine and fresh seafood. We even got some adventure in when we went snorkeling!

There are not enough characters available in this review box to express how WONDERFUL Terese with Hibiscus Travel was for our destination wedding planning. Her customer service was OUTSTANDING throughout the entire year we planned our trip, wedding, and accommodations. I have never planned a trip or event like this before so I was uneducated in many things. Plus the difficulties of planning something in another country alone can be a lot. I could email Terese or call and if she was busy she had a responds typically by the end of the day for me. She never made me feel belittled or silly for not knowing things. Terese helped me find a destination suitable for all needs we had. She then worked with me to book the resort and accommodations. She helped book all rooms and flights for guests. After this she then went to lengths to assist me with planning our wedding! We got married on a Trimaran which was wonderful but a challenge communicating with the decorators and owner of the boat. Terese was the middle man for it all! As you can imagine planning an event with over 50 people and two very different family dynamics can be tough with all the personalities!!