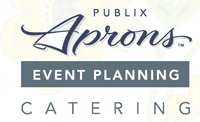 Welcome to entertaining, simplified. Publix Aprons Event Planning Catering is the perfect solution for all your occasions, from in-home dinner parties to
family reunions, grand receptions to corporate gatherings. We cover everything from customized menus to on-site meal preparation, venue coordination to serving staff. From the first moment you talk with one of our staff, the discussion centers on what you want your event to be and how Publix can help you make it happen.
Contact Information
1181 S. University Dr.
Plantation, FL 33324
Phone: (954) 577-4264
VENDOR REVIEWS – Trustworthy reviews are our priority.
Publix Apron's Events
Average rating:
1 reviews
Jun 21, 2019
Publix Aprons Catering - The Perfect Choice
Chef Chris Holbrook and the staff at Publix Aprons Catering in Tallahassee were perfect from start to finish. My daughter's wish for her wedding was to have a fun, enjoyable day with family and friends, so she decided that a taco bar would be perfect for the food. Chef Chris seized on the idea and devised a high-end taco bar. The set up at the Garden Club was perfect, with a beautiful display of appetizers and the main course served on the deck. I just can't say enough about the food – the flavors were amazing. The menu was diverse, interesting and delicious. I heard glowing and positive remarks from family and friends on the day, and for days afterward – they just loved it! The staff was great – making sure that all of our guests were well taken care of. The set up and take down was seamless and professional. Thank you so much, Chef Chris for a wonderful event!