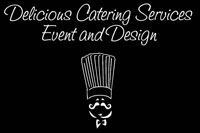 In understanding every aspect of catering and event services, including site selection, entertainment planning, and vendor & event management, we leverage our strong affiliations with leading area floral and scenic designers, equipment suppliers, and entertainment producers to orchestrate a seamless event Experience Delicious Catering's personal service and tantalizing palette that only comes from generations of professional cooks in the kitchen .
From extravagant affairs to business luncheons, Delicious Catering Services has been tastefully entertaining for years. Today, we continue our tradition of providing our clients with the finest in off-premise catering, combining the highest quality food with innovative presentations, imaginative event concepts, and professional services.
Contact Information
10871 sw 188 street #22
Miami, fl 33157
Phone: 786.486.0246
VENDOR REVIEWS – Trustworthy reviews are our priority.
Delicious Catering
Average rating:
1 reviews
Jul 5, 2017
Incredible Job
Wedding Date:
Recently Married
I just want to say thank you for everything. The party on June 5 was beautiful (despite some mishaps because of the rain!). The food was wonderful. Everyone was super happy. But what I have to say was incredible was your staff. They were absolutely amazing. Please tell them thank you behalf of my family and me. They really went out of their way to be as helpful as possible, whether it was drying chairs in the backyard (it was a hurricane in the beginning of the party), or serving the champage, or just about anything. They were extremely flexible, helpful, hardworking, elegant, and polite. The bartender and the chef were fantastic as well. Plus, when they left you could not even tell that there had been a party in the house. It was spotless!! We really could not have asked for a better combination.

They really just did an incredible job, so thank you very much for recommeding them, and I hope you let them know. I really hope that we can work together again in the future! 🙂