Your Rehearsal Headquarters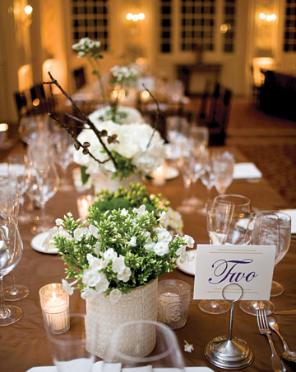 The rehearsal dinner follows the rehearsal and is usually held on the evening before the wedding.  The family of the bride and groom plus the bridal party attend.  It is an important event and kicks off the wedding festivities that follow. Guests at the event should dress appropriately for the special occasion. Assume the proper attire is semi-formal if a dress code has not been stated. For women, this may mean a dress or nice blouse with slacks or a skirt. For men, this generally means a pair of slacks with a buttoned shirt. Consider the venue style for the rehearsal dinner, and carry the theme of the wedding into it.  For instance, if the couple has planned a beach wedding, they will likely have arranged for a similarly relaxed atmosphere at the rehearsal dinner. In that case, resort wear such as a breezy, wrap-style dress for women and light-colored slacks and polo shirts for men would be perfectly appropriate. Choose shoes appropriate to the location and activities of the event. This is especially important for women, comfortable shoes are also important if dancing is planned. Bring a light sweater or jacket for summer events in case the evening gets cool.

Seating

Because it's typically the first time the bride and groom see most of their close friends and family together, the rehearsal dinner can feel like a reunion. For a more formal dinner, or one with a larger guest list, it helps to have a seating chart so people aren't at a loss about where to go when it's time for the meal to be served. Furthermore, some members of the two families may be meeting for the first time, and relatives may not be acquainted with everyone in the wedding party. Encourage conversation by seating these people together (if you're sure they'll be comfortable), or simply make a point of introducing them personally sometime during the evening.
Order of Rehearsal Dinner Toasts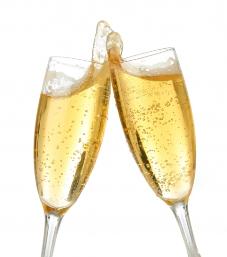 The host of the dinner, traditionally the groom's father, starts the toasts during dinner.  Some gatherings have only a few toasts, others can carry on for quite awhile, so best to start this during the meal.  After the host, the bride' s family follows.  Anyone from the wedding party and any guests may also offer a toast, but these are optional.  To conclude the toasts, the couple gives a toast thanking their parents and guests for being a part of the evening's festivities.
Rehearsal Dinner Guest List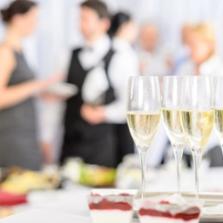 Traditionally, the guest list for the rehearsal dinner includes everyone that was at the actual wedding rehearsal (all wedding party members), spouses of anyone participating in the wedding party, the immediate family of both the bride and the groom, and the officiant (and if applicable, their spouse).
Today, many rehearsal dinners often include out-of-town guests, close family friends, and extended family members.  These invitations are purely optional, and should only be done if the budget and venue allows for it, and if the couple wishes to broaden the celebration.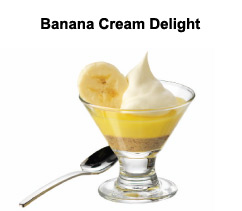 Serve in 12 Mini Martini Glasses or Small Dessert Dishes.
½ cup graham cracker crumbs
2 tbsp butter, melted
1 tsp sugar
1 box vanilla pudding (non-instant is creamier)
2 bananas, sliced
1 container whipped topping
Mix cracker crumbs, melted butter and sugar in a mixing bowl. Divide the cracker mixture equally between the 12 glasses, press down firmly in bottom of each glass. Make the pudding as directed on the box. Put 3-4 slices of banana over the cracker crumbs. Cover bananas with pudding. Chill until set.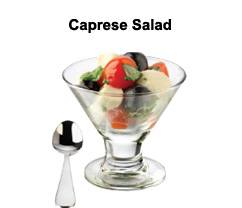 Serve in 12 Mini Martini Glasses with Spoons or Appetizer Forks.
24 cherry tomatoes (quartered optional)
1 small can black olives
1 lb fresh buffalo mozzarella, diced
½ cup fresh basil, chopped or torn into small pieces
¼ cup olive oil
2 tbsp balsamic vinegar
salt and coarse black pepper
You can also add ½ cup finely chopped sweet onions or green onions. In a mixing bowl, combine the first four ingredients. Toss with the olive oil and balsamic vinegar. Season to taste with the salt and pepper. Serve in Mini Martini Glasses on a long tray.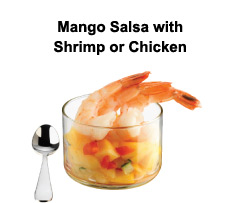 Serve in Mini Bowls with Spoons or Appetizer Forks.
1 mango, peeled and finely cubed, 12 oz fresh pineapple, diced. ¼ red pepper, chopped. ¼ green pepper, chopped. 2 tsp red pepper flakes, divided. ½ cup honey, divided in half, 1 lb large frozen shrimp. In a large mixing bowl, combine the mango, pineapple, red and green peppers, 1 tsp red pepper flakes and ¼ cup of the honey. Mix well. Place a heaping spoonful of the mango salsa in the bottom of each mini bowl. In a small mixing bowl, place the remaining honey and red pepper flakes. Dip the shrimp, but not the tail, into the honey mixture. Place 2-3 shrimp in each individual serving bowl on top of the mango salsa.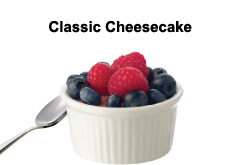 Serve in 12 oven-safe 3-oz Ramekins.
1 cup graham cracker crumbs, ¼ cup margarine, ¼ cup sugar, 1 8-oz package cream cheese, softened (ricotta cheese may be used), ¼ cup sugar, 2 tsp vanilla, 2 egg whites, ¼ cup sour cream, 1 can cherry, blueberry pie filling or fresh berries for topping (optional)         
Preheat oven to 350 degrees. For a simple graham cracker crust, mix graham cracker crumbs, margarine and sugar, then divide equally between the 12 ramekins. In a large mixing bowl, beat cream cheese, sugar and vanilla with electric mixer until well blended. Add egg whites, mix well, then add sour cream and mix thoroughly. Pour equally into the 12 ramekins, almost to the top. Bake 20 minutes or until center is almost set. Remove from oven and refrigerate until chilled. When ready to serve, top each ramekin with a spoonful of fresh berries.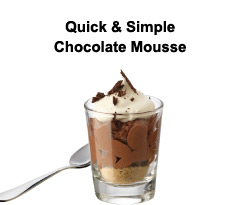 Serve in 12 Mini Shot Glasses or Mini Cordials.
3 tbsp butter, melted, 1 cup graham cracker crumbs, 1 tsp sugar, 1 8-oz package cream cheese, softened, ¼ tsp vanilla, 1 tbsp milk, 4 oz baking chocolate or chocolate chips (can be dark, semi-sweet or sweet), 1 8-oz container whipped topping, Chocolate shavings or wafer for garnish (optional)
Melt butter in microwavable bowl, add cracker crumbs and sugar, mix thoroughly. Place about a teaspoon of mixture in the bottom of each shot glass, a little more for cordials. Press down. In a large mixing bowl, beat softened cream cheese and vanilla until fluffy. In smaller microwavable mixing bowl, melt together milk and chocolate until melted and creamy. Add chocolate to cream cheese mixture. Gently fold in whipped topping. Fill each glass to the top with the chocolate mousse.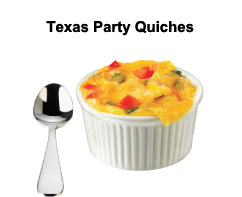 Serve in 20 oven-safe 3-oz Ramekins.
1 pkg refrigerator biscuits, 5 eggs, beaten, 1 cup cottage cheese, ¼ cup flour, ½ tsp baking powder, ¼ cup, butter or margarine, melted. 2 cups grated Monterey Jack cheese, 4 tbsp finely chopped green onions, ¼ cup shredded cheddar cheese, optional. 1 jar of salsa for topping, optional.
Preheat oven to 350 degrees. Separate biscuits and cut in half horizontally, making 20 pieces of thin pastry. Place a piece of pastry into each ramekin. Press down. Bake for 10 minutes at 350 degrees, until just brown and
slightly puffy. In a large bowl, combine beaten eggs and cottage cheese. Beat in flour, baking powder and melted butter. Stir in Monterey Jack cheese, green onions. Mix well. Pour mixture equally into the ramekins. Bake at 350 degrees for 20 minutes or until done. Serve warm, plain or with salsa on the side in a dip bowl.