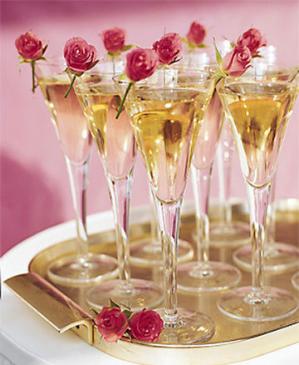 Rose Champagne
Tiny roses add an elegant detail to your champagne toast. To make the garnishes, insert a toothpick into the base of each blossom at an angle of a little less than 45 degrees. Cut the stems cleanly about 1-inch shorter than the length of the toothpick; you may have to adjust length depending on the weight of the bloom. Place each toothpick just inside of a rim, letting the roses balance delicately on top.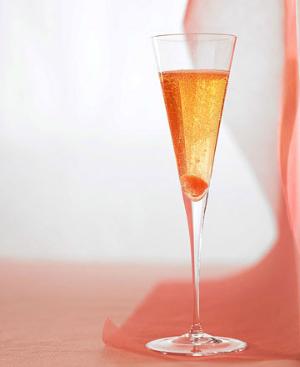 Champagne Cocktail
Begin the party with a time-honored favorite: Champagne flavored with a bitters-soaked sugar cube and a dash of Cognac. Bitters are an alcoholic flavoring made with herbs, spices, roots, and citrus peel, popular in traditional cocktails like this one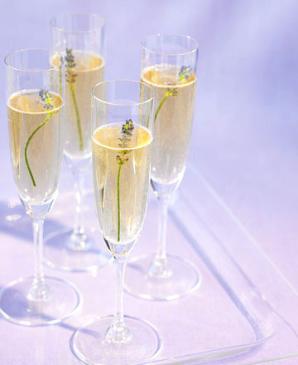 Lavender Champagne
Offered as an aperitif or for a toast, this aromatic drink evokes the romance of the South of France with each sparkling sip.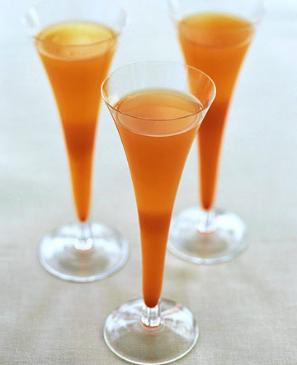 Blushing Cocktail
As an alternative to plain Champagne, try this cocktail for rehearsal-dinner toasts. To make a Blushing Bride, pour 2 ounces of chilled passion-fruit nectar into a glass; gently pour in 3 ounces of cold Champagne, then 1/2 teaspoon grenadine. Do not shake or stir. The three will commingle as prettily as a flush spreading on the cheek of a shy bride-to-be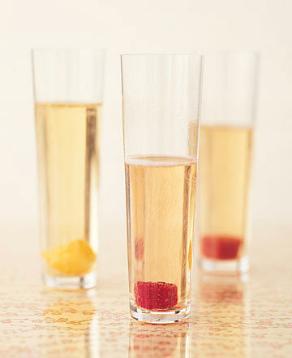 Sugar Cube Champagne
Give bubbly a boost with jewel-like cranberry-, pomegranate-, and apricot-infused sugar cubes. Working in batches, soak cubes in a bowl of fruit concentrate or puree until completely saturated. Remove with a fork, and place on a wire rack (don't let them touch); let dry overnight. Present cubes at a champagne bar, or serve them in passed drinks. The sweet, tangy taste will keep guests sipping long after the toasts.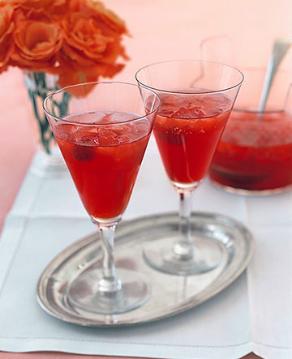 Champagne Punch
Upgrade your punch with a splash of champagne.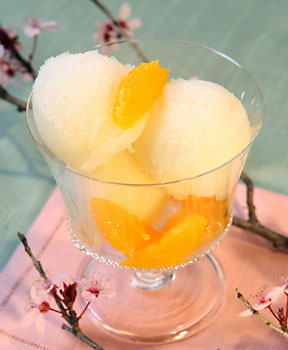 Mandarin Champagne Sorbet
Another alternative for sorbet with a champagne twist.