Inspiration to Collection
Hundreds of gorgeous gowns floated down the runway at this season's Bridal Fashion Week. As if seeing the much anticipated collections wasn't exciting enough, we got the inside scoop on the inspiration behind them. From enchanting fairytales to Old Hollywood starlets, see how designers dreamt up their latest wedding dresses.
where do the top designers get their inspiration for those fabulous runway worthy gowns?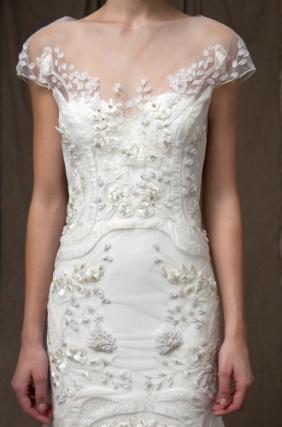 Lela Rose
The inspiration:
This collection was inspired by the Complete Fairy Tales of Oscar Wilde as I have been reading many of the stories to my children. In Oscar Wilde's own words, the tales were written "partly for children, and partly for those who have kept the childlike faculties of wonder and joy." The book is filled with princes, nightingales, pixies, mermaids, and kings and it was such fun to dream up what each would be wearing.
The muse:
Mia Farrow for her pixie-esque demeanor.
The collection:
Modern ethereal romance.

Advice for Brides
I really don't think a bride should step out of their "fashion comfort zone" on their wedding day. Pictures last a life time and you want to look back thinking you were a beautiful version of your everyday self – not caught in a trend. Save the risk for your engagement party or a reception dress."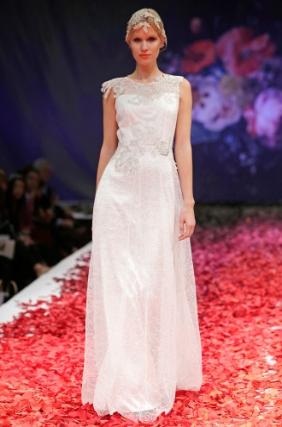 Claire Pettibone
The inspiration:
The mood began with a gorgeous floral painting, "Still Life of flowers on a Marble Table" by Rachel Ruysch, 1716. I loved the contrast of lush flowers against a dark mysterious background, and translated this inspiration into floral embroideries, rich laces, and layered details, including a few butterflies, as insects were often part of this genre of art.
The muse:
There was actually a song I was obsessed with this season, "Counting" by Autre ne Deut, that epitomized the mood, and that, more than a specific person, is what inspired me.
The collection:
Opulent, romantic, ethereal.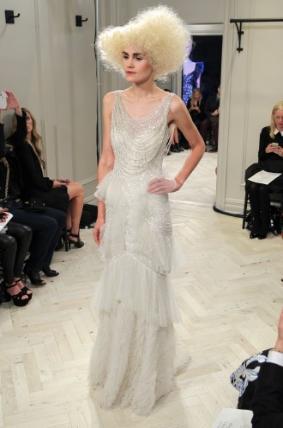 Badgley Mischka
The inspiration:
Our Bridal Collection goes back to the DNA of our style—the glamour of "Old Hollywood." We fused it with the effortlessly chic feel of the French Riviera of the 30s for a bride of any era. We imagine our gowns in so many settings: a palace in Italy, a beach in Carmel, the Pierre in Manhattan.
The muse:
She is so many women—our friends, Mark's twin sister, our latest Hollywood crush. The only constant is that they are consumed with glamour, in the best possible way.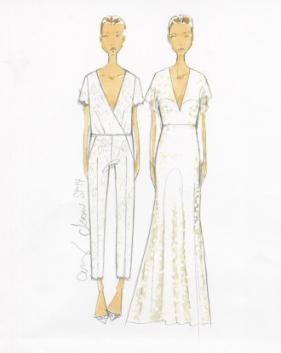 J.Crew
The inspiration:
This season we were inspired by everything feminine, from lace and sparkle to feather detailing.

The muse:
We always think of our J.Crew woman and what she would wear. She is sophisticated and classic but loves to have fun and express herself through her clothing.

The collection:
Effortless, classic, romantic.

Advice for Brides
"Don't be afraid to break from tradition and go for a more modern look. I love our beaded cocktail dress and lace jumpsuit. They also make for a great wardrobe change so our brides can dance the night away!"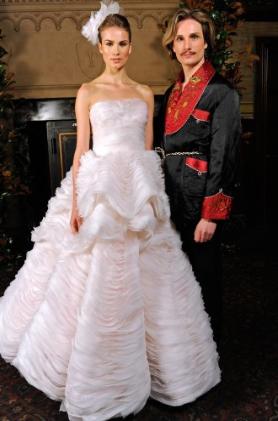 Austin Scarlett
The inspiration:
After taking long walks through the Botanical Gardens, I found myself inspired by butterflies emerging from their chrysalis. I imagined their wings like folds of organza and layers of tulle. Fluttery, delicate and shimmering embellishments with a hint of Aurora Borealis. I think we will see a lot of Austin Scarlett gowns walking down petal-strewn garden aisles in the near future!

The muse:
An ethereal princess who haunts my dreams. I'm still searching for the delicate foot that fits her glass slipper.

The collection:
Enchanting, floating, resplendent

Advice for Brides
"Darling, one's wedding day is hardly the best time to start taking fashion risks! Everything you wear that day should make you feel your most beautiful. However, I will say, it is a wonderful idea to experiment during the gown shopping experience. That is the time to take risks and be adventurous! You might be surprised when you find your perfect gown."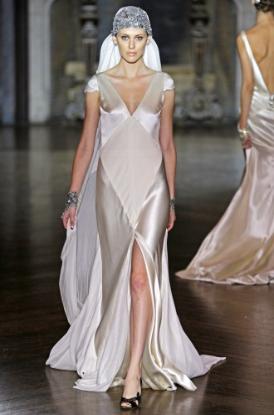 Johanna Johnson
The inspiration:
My collections are designed as a red carpet interpretation of bridal. Every gown is approached with laborious old world techniques and finishes. Every look is treated as its own homage to Art Deco decadence, the structure of the era, and the glory of dressing on ceremony.

The muse:
In celebration of our international expansion it is inspired by the architecture of New York City. This collection
is built on the construction of embellished beaded designs, paneled silk gowns, detailed French laces, and reflective, metallic silhouettes.

The collection:
Heirloom, artisan, timeless