DIY Rachel Ray Style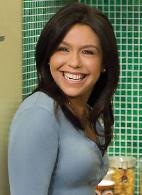 The ladies at Rachel Ray were kind enough to share this unique centerpiece they created with us. Who would have thought that a little box of jello could turn out to be such a unique centerpiece for a wedding??? What you will need: Jell-o, Water, Vase, Flowers Co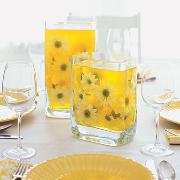 mbine six boxes of jell-o with half of the amount of water specified.
Chill in the glass vase you have chosen for half an hour. Push flowers into the semi-firm gelatin and there you have it.  Your very own one-of-a-kind centerpiece!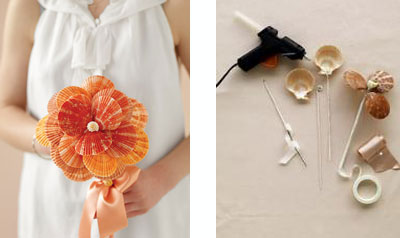 DIY Beach Bouquet
Walk down the aisle with this cluster of bivalve blooms and your wedding will go swimmingly. The breathtaking posy is easier to construct than you'd think — it's simpler than making a flower out of silk. Noble pectin singles, Caribbean Imports.
Tools and Materials
Shells
7-inch length of floral wire
Floral tape
Hot-glue gun
Hot-glue sticks
Wrap a 7-inch length of floral wire with floral tape; form one end of each into a loop or a small spiral. Use a hot-glue gun to attach the loops to the backs of the shells. Assemble the shells into a bouquet, placing the small round shell in the center and arranging the petal-like ones around it, starting with the smallest shells. Use floral tape to secure each stem as you add it, and bend the wire stems to make the shells flare away from the center.
Once finished, tie a pretty ribbon around the stems and you've got a beach-ready bouquet.