David Tutera – from ordinary to extraordinary
He continuously exceeds the expected with an unmatched level of inspiration, imagination, and innovation to create the latest trends.  Florida Bride Magazine recently had the pleasure of conducting an interview with this world renowned wedding professional.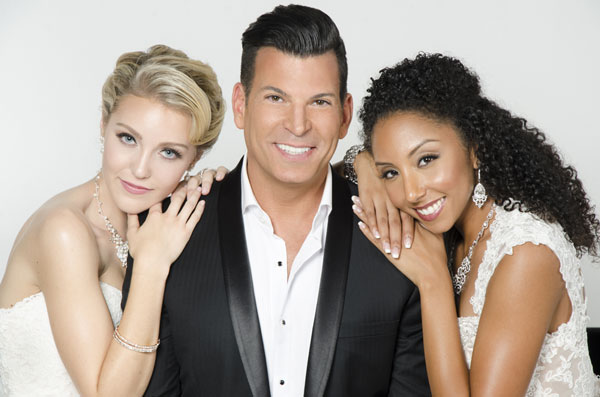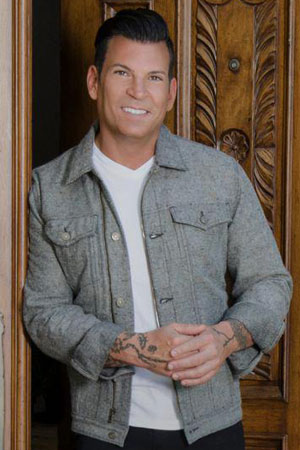 David on Florida Brides
Q. With Florida having so many destination weddings on the beach, what advise can you give beach brides in planning their outside beach themed weddings?
A. When planning a beach wedding I love to use the ocean breeze to my advantage and place decorative accents like tall posts with billowing fabric flags to create dramatic backdrops, and soft fabric or ribbon accents to the ceremony structure to add a whimsical movement to the alter or chuppa. Similarly, I always make sure to let the landscape do the work, and position guests so that they are always facing the gorgeous view. I also like to build hard platforms (sometimes using sections of portable wooden dance floor) to create a solid runner for the aisle which is easier for the bride to walk on.
Q. I am a crafty bride and like to be hands on. I am planning a Beach Wedding. We are trying to save money by doing our own centerpieces. My bridesmaids and I have been debating on what they should be. What are some of your favorite centerpieces that you' ve designed?
A. I have had the pleasure of working on many incredible beach weddings, and one of my favorites was the most simple, and could be easily replicated by you and your bridesmaids. I kept the whole color palette white, from the linens to the china to the flowers. Down the center of the long tables, I ran a series of assorted glass containers and filled each one with its own white species such as calla lilies, casablanca lilies and white orchids in very simple, clean designs. This clean design was really very impactful against the lush greenery and beautiful beachscape that surrounded it.
Q. What advice could you give to our Brides on choosing the perfect gown for an outside beach wedding and a hot Florida summer?
A. Florida brides really need to embrace the weather and dress appropriately. I suggest light, flowing fabrics, sheer materials and possibly even shorter lengths! I also suggest that if their hair is frizz-prone, or if wind will be an issue, that brides also embrace this and go with an updo that will withstand the weather. Finally, make sure to keep extra powder on hand to ensure that they are shine-free for photos.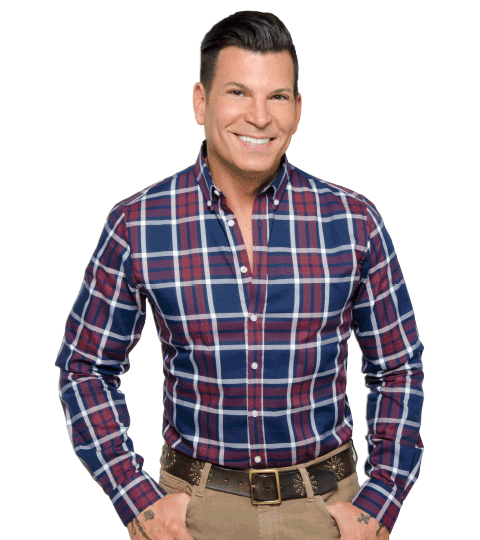 David on his personal experience
Q. When you share your personal experience with your TV brides do they become part of your life?
A. Through the many seasons of My Fair Wedding, I have met some of the most appreciative, beautiful and kind couples that I have ever had the opportunity to work with. Although we only work together for a few weeks before the wedding, it's an intense collaboration to get it all done, and we grow very close during that process. I keep in touch with many of the brides from the show, and in fact, Kim and Eddie (Breast Cancer Bride) were my special guests a few weeks ago at the Prevent Cancer Foundation's Annual Cancer Ball.
Q. What advice would you give to an aspiring wedding planner?
A. The one piece of advice I have followed my whole life is to dream. I learned this from my parents when I was little and ever since then, every time a dream has come true…I dream bigger!
Q. If you had to give one piece of advice to couples, what would it be?
A. I advise my couples to remember the point of a wedding – the union of two people, two lives, two families. This bit of advice should help brides from becoming too focused on the details and the budgets, and to focus more on the love story the wedding should tell…
Q. What type of shoe would you suggest for a beach wedding?
A. I have planned many beach weddings, and sinking sand does pose a problem in terms of fashionable wedding footwear. I would actually suggest going barefoot for your walk down the aisle as any shoes will not only sink, but wobble and potentially rub sand against your skin – making them too risky!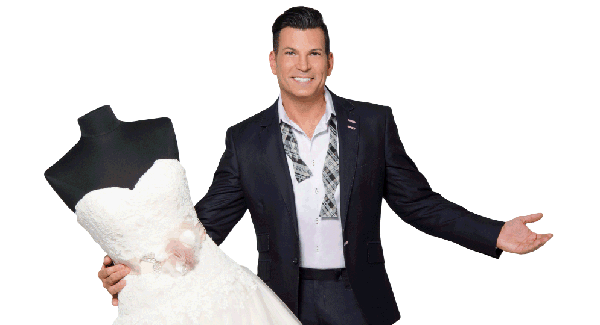 David on Planning and his new line
Q. What are the first steps brides should take when it comes to planning their wedding?
A. I always suggest that a couple sort out their budget first – not only the overall number, but also, what each individual element will cost. This will eliminate any surprises and help to keep everything in check. Sorting out a budget first also helps to determine a feasible headcount and practically-priced vendors.

Q. What is one thing a bride should never scrimp on in her wedding planning? Or, what is the most important thing to indulge in?
A. The "Splurge" item will differ from bride to bride and couple to couple as this depends on whatever is most important to them. For some, this will be the venue, for others, the food, the music, or even the dress – but this "favorite" element is where the attention and appropriate budget should go to first to ensure the splurge item is perfect!
Celebrity wedding planner, David Tutera and sponsor Florida Bride Magazine present a wedding show unlike any other bridal show…an exciting wedding planning experience.