Please email any content that you feel may be of interest to the Magazine and its readership. Letters and e-mail to Florida Bride Magazine may appear in the "Ask the Editor" section on our website, and may be edited for style, length and clarity. Email: info@florida-bride.com  to submit your correspondence  electronically.
Florida Bride Magazine does not accept or return unsolicited manuscripts and photos. Please send a concise query letter to Editorial Director, Grace rompton at  grace@florida-bride.com
EMPLOYMENT/INTERNSHIP OPPORTUNITIES
If you would like to send us your resume to keep on file, please submit it as an e-mail attachment to mark@florida-bride.com. In the subject line, please include your area of interest, such as Editorial, Advertising Sales, Art and Design, Production, Circulation or Administration.

PHYSICAL ADDRESS
The Florida Bride Magazine corporate office is located at 1350 North Ocean Blvd. Pompano Beach, Florida 33062.
Ph: 877-279-0777
Fax: 954-785-6749
Submit Your Real Wedding to Florida Bride Magazine
If you plan to submit your photos of your wedding, keep in mind that the most important elements we look for are:
•        Great photography
•        Unusual ideas
•        Gorgeous locations
Be sure to include images of reception details, including the cake, centerpieces, linens, placecards, flowers, the bridal party, dress details, location, and cultural, ethnic, or family traditions. Share any successful ideas that worked for your wedding that you'd like to share with other brides!
Submit Your Wedding
Want to see your wedding in Florida Bride Magazine or on florida-bride.com? We are always looking for beautifully photographed and well-coordinated events to feature.
What we're looking for:
We'll want to see photographs of the bride getting ready, bouquets, boutonnieres, floral arrangements, and décor, the vow exchange, first dance, the toasts, the wedding cake, portraits of the couple and wedding party, and your guests having a great time. We're always excited to see real couples' cool, inventive ideas, so please include as many details shots as possible. Tell us a bit about yourselves and your wedding as well—maybe you wore your mother's gown, or drew inspiration from a favorite film.
The info we'll need:
– The bride and groom's names and telephone number
– Wedding date
– Reception venue
– City and state in which the wedding took place
– The photographer's contact information
– Digital photos of the event
– And, of course,  a bio and write up of the event
Where to send it:
E-mail all of the information above, along with a link to an online gallery of about 25 images
from the event, to info@florida-bride.com You can also e-mail us JPEGs
Florida Bride Magazine also accepts Real Weddings from Two Bright Lights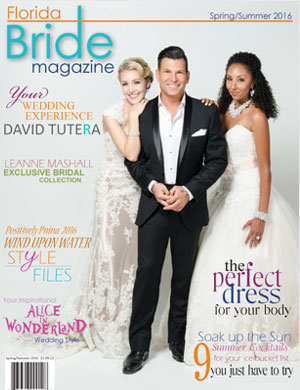 The Spring/Summer 2016 Issue featuring David Tutera as you have never seen him before is in print. The issue also features your new Spring style, Alice in  Wonderland Wedding styles, Oscar Lopez's new Runway Collection and Sew Sketchy. Available for order now!