A Moment with Ron Ben-Israel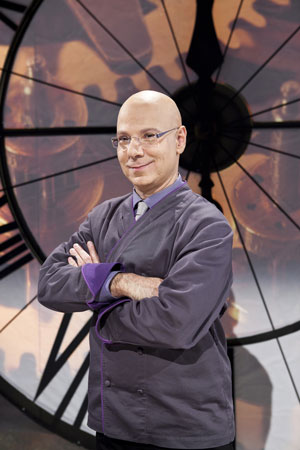 As chef-owner of Ron Ben-Israel Cakes, one of the country's finest couture cake studios, Ron Ben-Israel has made cakes that have been hand-delivered to destinations throughout the continental U.S. and abroad.
Ron started his confectionery adventures after a 15-year career as a professional modern dancer. Upon retiring from performing with companies spanning three continents, he incorporated his art training, military background and ballet regime into the discipline of pastry arts. After Ron arrived in New York City, his cakes were discovered by Martha Stewart while on display in the windows of Mikimoto on Fifth Avenue. In 1999 he established his flagship design studio and bakery in Manhattan's fashionable SoHo neighborhood.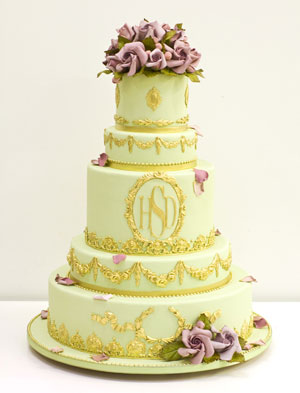 Create cake masterpieces with these easy decorating tips from Sweet Genius Ron Ben-Israel
Be consistent. Whether you're decorating your first cake or your seventeenth, it's important to keep the design aesthetic consistent. Being consistent makes a statement all by itself: Even if your icing isn't extra smooth, as long as it has the same feel all-around, it will be authentic. "With my very first cakes, my hand was shaking so badly. I was so nervous making a wedding cake," Ron says. "I started doing a squiggle that was supposed to be an ornate straight line, but what I did is, I took this pattern and repeated it all over the cake. It ended up looking like a million bucks!"
Bring in help. Don't be afraid to coat the sides of the cake, and even the top, with additional ingredients. Ron recommends holding the cake with one hand and sprinkling on things like flaky or toasted coconut, roasted slivered almonds, chopped hazelnuts or pecans with the other.
Go big. Ron is a big fan of layer cakes: he often makes eight-layer beauties at his New York bakery, Ron Ben-Israel Cakes. "Homemade cakes often look topsy-turvy," he says. "The key is to refrigerate between stages." Make the first layer, put some filling on top, sandwich it together with another layer and refrigerate for 30 minutes or until the filling hardens. Once you take it out, add another layer of filling, another layer of cake and put it back in the fridge for a total of four times. "You have to plan in advance," Ron says, "but it's worth it."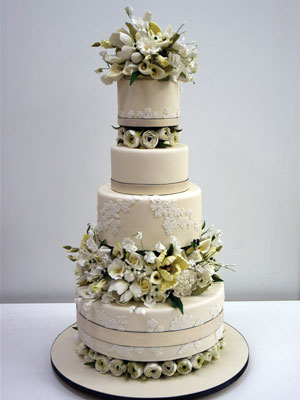 Ron shares his tips for brides on understanding and deciding on a specialty cake:
What a designer cake is: "Just like a designer dress, each bride gets to have a cake designed for her own vision." "Designer cakes are also recognized for their unique style and people recognize who baked it."

Deciding on a cake: The best thing a bride can do to be ready to design a cake is to look through magazines and websites to find designs she is interested in. Once she has narrowed down her options, Ron suggests that she discuss them with her baker and offer guidelines of what she does and does not want, but then she needs to trust in the baker's expertise to deliver a delicious and beautiful cake. "Once they feel confident, they should let go," he said.
Understand the price range: Every designer wedding cake has an individualized price tag based on the amount of labor required, the size of the cake, and the detail in the design. The simplest of Ron's designs begin at $12 to $15 per person, but he explained that many brides that choose his bakery are interested in
more elaborate and therefore more expensive cakes.
A Minute with Cake Baker, Ron Ben Israel Ron Ben Israel for Brides: "Inspiration"
Florida Bride Magazine had the pleasure of interviewing Ron Ben-Israel for a Spring/Summer Issue and as always Ron did not disappoint. We bring you this detailed and fun video as Ron shares his tips and inspiration for our readership.
A quick recipe from Ron Ben-Israel
Swiss Meringue Buttercream
Ingredients
9 large egg whites, room temperature, 1 1/2 cups sugar, 1 1/2 pounds unsweetened butter (6 sticks), softened but still cool, Optional flavoring: extracts, melted chocolate, liquors, fruit and fruit purees, broken cookies, chopped candy, nut pastes, instant coffee.
Directions
Place the egg whites and sugar in large metal mixer bowl set over simmering water. Whisk constantly until the sugar melts and the mixture is very thin and warm. Remove the bowl from the heat and whisk on high speed until stiff peaks form, about 5 minutes. Continue beating on low speed until cool, about 15 more minutes. Beat in small pieces of the cool but soft butter on low speed. The mixture may "curdle" before coming together. Add vanilla extract or other flavorings if desired. Rebeat occasionally while frosting the cake to maintain a smooth texture.